Testimonials
---
I recently moved to San Rafael for business. I have 2 dogs and work long hours and had a dog walker. She quit on me with 24 hours notice and I was beside myself. What was I going to do with my dog? I called Don and he came to my home to interview and meet the dogs that night. He is an awesome warm loving human being that truly loves animals. I hired him on the spot and he started the next day. He was a lifesaver and immediately put my mind at ease. Bailey and Dharma have a great time on their hikes. Don always sends pics of the hikes everytime he walks them which I just love . He's a keeper. – Cindy T.
My family expanded leaving me less time to devote to our four legged member and thankfully my google search led me to Dog Trotters & Don David. He truly loves animals and I think his walks have already taken years off our dog, Albert. Albert gets so excited and runs to the door every time I mention Don David. It's also really helped with Albert's socialization with other dogs. He used to be aggressive &/or fearful of other dogs but that has totally changed. If you are looking for an amazing dog walker, no one is better than Don David! – Heather M.
Don David is amazing with our little dog oliver. He's been watching him since he was 6 months old. I always feel good when I leave him with Don, it's home away from home. When I pick him up, oliver is always calm and content!!! – Valerie T.
We moved to Marin county from So Cal about 9 months ago. With no family to watch our 13 yr old dog in the area, we had to find someone trustworthy to leave him with when we have visitors and are out of the home all day. Don has been great from the very first time he watched Jet! When we drop him off now, Jet doesn't even look back to see if we're coming along. He goes off happily with Don and when we pick him up he is so calm and relaxed. We feel so at ease leaving him in the care of Don, it means so much to have a person you can trust to leave your dog with. Thanks for the great care! – Angelica R.
Don did an awesome – truly remarkable – job watching my dog, Addie. We were on a longer-than-usual vacation and I didn't want to put that task on a non-pro. Don provided regular updates and totally put me at ease. I think the dog was actually bummed when we got home. Normally there'd be a lot of excitement, but she basically gave us a dirty look and walked away. No bigger compliment for a walk sitter 🙂 As we're planning another longer holiday, I am not stressed at all about leaving our other pooch in Don's good hands. I know she'll have fun and be on her own sort of mini-dog staycation while we're in Hawaii. – Melissa M.
Our new 8-month old pup stayed with Don overnight for 11 nights while we were away visiting family, and he took excellent care of him!! He loved our dog Coda like he was his own, sent us pictures of him playing with his dogs and having fun, and obviously knew what our dog needed to keep him happy and healthy. When we picked up Coda, he was happy and at ease. He was not exhausted or run-down and easily transitioned back to our home. We will definitely be calling on Don any time we are away and can't bring our pup, and are so happy we found him! – Lyn B.
If you want to trust someone with your furry baby. This is the man/team you want to do it with. We've been with Don for over 2 years now and he is professional, courteous, on time and incredibly passionate about the dogs and what they need and want to be happy. You should see for yourself why he's been doing this for 25 years- he's awesome!!!! The notes he leaves everyday are the first thing I read every evening after work and I look forward to the midday picture of my baby enjoying the sunshine! Look no further!!! – Gretchen S.
My two chihuahua terrier dogs love their walks with Don David. They come home tired and happy which makes me a happy dog mom! Don pays special attention to one of my dogs who has anxiety, by giving her massage while they are in his truck I'm so grateful to have found reliable, caring dog lovers to walk my babies. I highly recommend! – Julia D.
Don David has been taking care of our dog DeeDee for a few years now-DeeDee loves him! Every time she is dropped off she is happy, tired from her adventure from that day. We have her walked twice a week while we are at work so DeeDee can play with her friends while there is still daylight. She is so much more energetic now having this routine. We trust Don David as family and highly recommend him to anyone. – John M.
Don David is a natural with animals. We trusted him to take care of our beloved Ollie for several weeks of boarding. Ollie clearly loves him. And, critically, Ollie came back to us healthier, having shed a few extra pounds that he desperately needed to lose. I can't thank Don David enough. – Megan J.
We have a chaotic work schedule, and we're often out of town for work. Don has always been very accommodating, especially last min! He'll take our dog out 3-4x a day when we're gone, and I always get updates via text when our dog has been walked, usually accompanied by a picture of our dog having a great time with the other dogs. Its very refreshing compared to the service you get from a typical kennel, and far more personal. It's those little details that make us feel a lot better about leaving our pup in someone else's hands for a few days. – Garrett B.
My wife and I, along with our GoldenDoodle and Standard Poodle were visiting the Bay Area, staying in Sausalito and needed a dog sitter for a couple of nights. We had not planned in advance. I contacted Don through his DogTrotters.com website and he agreed to dog-sit at our rental house for two nights with only two day's advance notice. Don came over to meet our dogs beforehand, and we immediately felt comfortable as did our dogs. Don took excellent care of our dogs over those two nights. I can't say enough about how kind and gentle he was with the dogs. His rates were very reasonable also. I highly recommend Don to anyone seeking dog sitting, walking, pet massage, etc. We will gladly reach out to Don ion any future trips. – Bill M.
---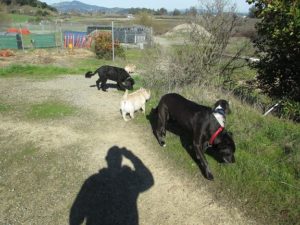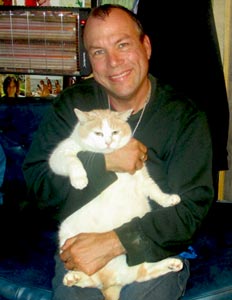 We offer Pet Massage and Pet Acupressure all dogs and pets. I am trained in Chinese Acupressure and experienced in doing healing and massage in the Lakota American Indian Tradition.
I believe in creating a "Heart Centered" Connection with all my pet clients and their beloved pet companions. We are very loving and Kind to all animals and pets.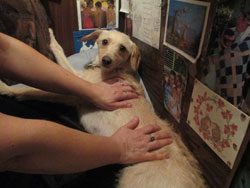 Pet Care Services are offered
in Marin County, California.
Cities Served in Marin County – San Rafael, San Anselmo, Larkspur, Novato, Fairfax, Corte Madera, Mill Valley, Sausalito, Greenbrae, Kentfield, Ross, Terra Linda